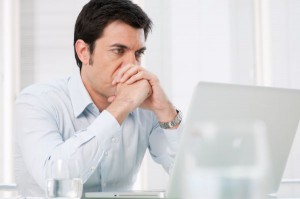 You know those files at the back of the filing drawer and those unpaid invoices on your Paypal.com account? Those accounts and files represent potential profits that could be lost if neglected. In the midst of the hustle and bustle of business, sometimes emails, files and past due accounts get buried by something newer and more pressing. Sending an account past due notice gets put on the back burner for a rainy day when business is slower.
The problem with this approach is that it too easily results in the company losing money. Past due accounts are more likely to be resolved when they are addressed soon after the payment deadline. More time passing after the payment due date directly correlates to how unlikely it will be that you will ever see the money owed to you. Nothing should be more pressing than saving lost profits, because business rests on the bottom line.
Send a reminder
To prevent those profits from slipping through your hands, being the debt collection process immediately after you see that the payment deadline has been missed. Usually the process begins with a courtesy note of some sort, reminding the client of the amount owed and the day it was due. Like you, clients can easily allow certain bills to become buried in the pile, and they will gladly pay after a gentle reminder.
That is the first step of a procedure that should be clearly outlines for your accounts receivable department. It is the first step of a process that should be followed for every past due account. However, it is not the only necessary step.
Attempt to make contact
Fax, email, certified mail and phone calls should all be part of the tools used to obtain contact with the debtor. Using multiple methods keeps communication lines open should one method fail, be disconnected or suffer a technological malfunction.
Keep records
As you attempt to contact a debtor, it is vital to keep track of the attempts, regardless of the method. Should the debt resolution require a trial, you want to be able to show that you used due diligence to connect with the debtor.
Seek professional help
If you feel you are spending too much time trying to locate debtors, if your debtors have completely stopped corresponding with you or if you have tried everything you know and hit a dead end, bring in the professionals. Debt collection companies employ collection lawyers as well as a network of contacts and databases that assist them in locating and recovering your money. But the longer you wait, the more difficult the process is for them, too. Don't let the accounts get old and dusty. Keep on top of your profits.