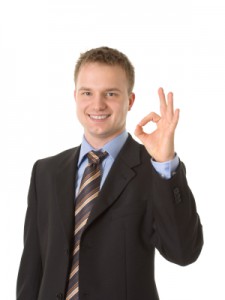 As frustrating as it is to have clients who have past due accounts, it is important that you not allow the frustration to affect your behavior toward the client. In fact, it is best to maintain the client's reputation throughout the collection process. Here are three reasons why.
It's good advice to make nice
Just like so many grandmothers have said, "You catch more flies with honey than you do with vinegar." In other words, people tend to respond better to kindness than they do hostility. Even if they don't respond exactly like you would want them to, they are more likely to communicate with you when they don't feel under attack.
Without contact, it is next to impossible to know the circumstances that led up to the account being past due. Kind assertiveness allows an embarrassed client to preserve their dignity more so than aggression would. The goal is collection. Past due accounts happen for any number of reasons, including circumstances outside the client's control. For example, imagine contacting a small business owner about a past due account and accusing them of being a "dead beat" when they have been dealing with a hospitalized child. Not only have you put the client on the defensive immediately, you have damaged your own company's reputation. Emails, invoices and phone calls have not been answered because the client has been tending to more important things, not because they were trying to avoid you.
Customer service is key
When you treat clients like the customers they are, that reflects well on your company. Ultimately, it makes it more likely that they will refer your company to someone else. Or, after resolving their financial issues, there is the possibility they would bring their business back to you under the right conditions.
The best offense is a good defense… or vice versa
There is always the possibility that the collection process will end up in court. If that happens, you want to ensure you have not given the debtor ammunition to use against you. Speaking poorly of their company or slandering their reputation publicly would only backfire. Maintain professionalism throughout the process. In protecting their reputation, you're protecting yours as well.
Navigating the debt collection waters can be tricky. Should you find it takes too much effort or too much time to pursue debtors, maintain reputations and continue to run a business, let us step in to help.  We've made it our job to maintain your reputation as well as your client's and to do so effectively. The beauty of our assistance is that we only get paid a contingency rate. If we don't collect, you don't pay. If we do collect, you only pay a percentage of what was owed to you.
Whether you try to collect yourself or ask for our services, stay off of Yelp, keep the Amazon review to yourself and don't spread rumors you don't have the evidence to back up.