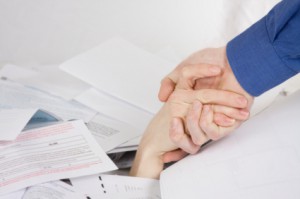 Anytime you are in charge of running a business, you understand the importance of having a steady flow of income coming into the business. Without income and funding, you will be unable to keep your staff, order supplies, pay the utilities, and even pay for the lease of your building location. Adding extra stress to all of this, chances are you have a handful of customer accounts which are past due, and you find yourself to the point of frustration when it comes to hounding them for their past due accounts.
If you find yourself in this situation, you may have no idea what to do when it comes to collecting debts. Understanding basic debt recovery tips can help you effectively take the steps necessary to collect on these debts. Should you still find yourself unable to collect, the assistance of debt collections agency will help jump start your recovery actions and bring your money back to the organization.
One of the important things to keep in mind when attempting to collect debts is to retain a firm attitude. Many organizations find this a hard action, as they are usually frustrated when making these types of calls and can find themselves becoming short with their customers. Try to maintain a positive attitude, while still remaining firm. This will show your customers you mean business. It is also a proven fact that individuals which owe money are more likely to respond in kind when the person attempting to collect is polite and not belittling the debtor for not paying on time.
You should also realize a very important concept in business when attempting to collect debts. Many organizations believe they should not attempt to collect on past due accounts with long standing customers, because it could potentially weaken the business transaction. However, if you have customers which are flat out refusing to pay their bills, chances are they will not want to continue to do business with you anyway. It has been reported that as many as 85% of individuals which owe money to a particular business will never shop at that location for that purpose alone.
Another basic debt collection tip is to remember to keep open lines of communication, and to not give up. Giving up on attempting to collect debts means the money you are owed will simply remain outstanding, leaving less money in your corporate account. This is where hiring a debt collections agency, such as international collection agency comes into hand. The specialists at debt recovery agencies are skilled professionals at collecting past due sums, no matter how big or small they may be, and will not stop with their collection efforts. When an account becomes too much to handle with your current available resources, handing it over to a qualified agency is always the smartest move.
By hiring debt recovery services, you will free up a great amount of time in order to run your business without having to also act as a collections agent. Knowing when to hire the assistance of a debt collections agency is crucial, and you will want to make sure you hire a company in a timely fashion. Waiting until certain accounts are 90+ past due will make it increasingly more difficult to collect.
Hiring a debt collections agency is a great way to have the money owed to your company come straight back into your account, and will additionally allow you to continue to run your business without worrying about having to collect.